by Paul Lee | SEO Expert
---
What if I told you that there's one thing you could optimize that might result in a huge boost to your local search rankings? This one thing accounts for around 33% of all the ranking factors that Google takes into account to figure out where you rank. You might have guessed, that one thing is Google My Business (GMB for short). What is Google My Business, you ask? And why should you care? Read on.
What is Google My Business?
Google launched GMB a few years ago, and most people barely noticed. They intended GMB to be sort of your "home page" for search results. It's a compilation of lots of information about your company, all in one convenient place. Your hours of operation, your official name, a description of the company, a list of reviews, and a lot more. If you search for your business name and your city in Google Maps, you'll likely see a version of your GMB listing in the search results. Take a look for yours now.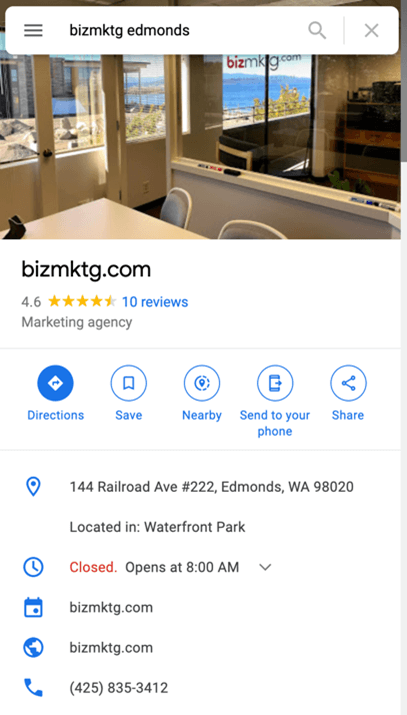 Why does it matter?
Remember, though, most businesses didn't really pay attention when GMB was launched. Google created profiles for every business, but it was up to the business owner to "claim" the profile and complete it fully. Some did, but a lot didn't.
But over the last 3-4 years, Google has been ramping up the importance of the GMB information. Today having an active, optimized, fully utilized Google My Business profile is the single largest local search ranking factor.
The Local Search Ranking Factor report released in 2020 shows that GMB signals account for a full 33% of the factors Google uses to decide ranks. More than page titles, more than links from other sites, and even more than reviews. Wow.
What do you do about it?
First, find your GMB profile. Then make sure your company has claimed and verified ownership of the information with Google. And finally, optimize the heck out of it.
Everything should be filled in, nothing left for Google to guess about. Upload photos of your facilities and staff. Answer your reviews – good and especially bad! A GMB-savvy SEO specialist will be able to help you take full advantage of everything that Google is offering.
SEO can be understood as sending Google the right signals so it can determine where your business ranks in response to a customer query. If 33% of all those signals come from one single source, shouldn't you make sure that source is accurate and complete? Get your GMB listing sorted out. Talk to us, and we can help.
Interested in Learning More?