Top 5 Social Media Tools For Small Businesses
A January 2013 Wall Street Journal/Vistage Small Business CEO Survey of over 800 small businesses in the U.S. revealed that LinkedIn has the most potential to help them.  The survey found that 30% of small businesses use LinkedIn regularly, while only 14% use Twitter.
The overall results of this survey are contained in this graphic from WSJ.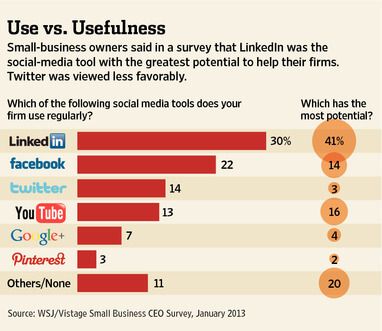 The Top 5 Social Media Tools in terms of usage are #1 LinkedIn, #2 Facebook, #3 Twitter, #4 YouTube and #5 Google+.
What I find interesting is that the Top 5 Social Media Tools changes when they are ranked by "most potential" which I assume means, "most potential" to help my business.  The Top 5 In terms of most potential are #1 LinkedIn, #2 Others/None, #3 YouTube, #4 Facebook and #5 Google+.
bizmktg.com has experience with small businesses and social media including LinkedIn, Facebook, Twitter, YouTube and Google+.  We have found that small "local" businesses such as dentists can benefit from Google+ Local as these profiles usually show up in the search results of regular Google searches.  We are finding Google+ Local to be a growing source of website visits and new patient phone calls.  Every small business with a local location for business should claim and optimize their free Google+ Local business page  (See our free guide – Getting Started with Google+ Local).
Our experience with LinkedIn has been somewhat limited.  We believe there is great potential for some of our clients including lawyers and other professionals to attract new clients through LinkedIn but as of yet, we have not seen any real results.
Facebook has been a solid source of activity for some of our clients.  We generally recommend that our clients create a blog that is associated with their website, then publish new items on the blog and have them posted simultaneously on Facebook and Twitter.  Facebook does have a unique audience so we also recommend paying special attention to followers and likes and on occasion creating unique content just for the Facebook audience.  This content is supplemental to the blog posts that are simultaneously posted on Facebook.
YouTube is a wonderful resource for small businesses that has yet to be fully exploited.  The factor that limits many small businesses is the thought of creating video content.  Thankfully there are now several apps including YouTube's iPhone App called "Capture" that allows for instant capture and uploading to YouTube.  The proliferation of video content creation and editing tools, especially for mobile phones, will lead to a revolution in video for small business.
Contact bizmktg.com if you are interested in learning how social media can help your business grow.  (425) 835-3412 info@bizmktg.com