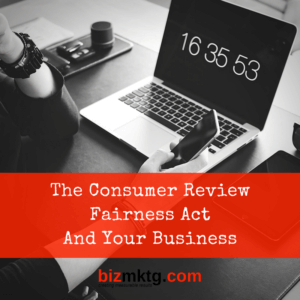 The Consumer Review Fairness Act was passed by the U.S. Senate on November 28, 2016 and was signed into law by President Obama on December 14, 2016.  The act outlaws the use of "gag clauses" in non-negotiable form contracts.  Gag clauses have been used in contracts by companies that wish to silence unhappy customers.  Such clauses are also called "non-disparagement clauses."
The new law stems from a case where a toy company demanded a customer to remove a negative online review.  The customer refused so the toy company demanded a $3,500. payment from the customer because the toy company's terms of service included a non-disparagement clause.
The impact of this law will be felt by businesses who have non-disparagement clauses in their terms of service. Some businesses may use this language in their existing customer agreements or terms of service and this law will most likely render those particular clauses unenforceable.
In the end, this law is a good thing for consumers as they are now free to report their own experience with a particular business or product.  As the Internet Subcommittee Ranking Member Brian Schatz (D-Hawaii) stated:
"Reviews on where to shop, eat, or stay on websites like Yelp or TripAdvisor help consumers make informed choices about where to spend their money. Every consumer has the right to share their honest experiences and opinions of any business without the fear of legal retaliation, and the passage of our bill brings us one step closer to protecting that right."
To read more about this new law go to: https://www.commerce.senate.gov/public/index.cfm/2016/11/senate-sends-legislation-protecting-consumer-reviews-to-president
Rather than threaten customers with legal action for negative reviews, the best way for a business to avoid negative reviews is provide excellent service in the first place.  Proactively ask your customers for feedback to find out how your business is doing…in their eyes. When you detect a negative experience by a customer with your business, TAKE ACTION. Contact the customer and find out what went wrong and how you can make it right.  Even if you can't make everything right with the customer, you've made the effort and that goes a long ways in most reasonable customers eyes.
If your business needs help monitoring its reputation, gathering feedback and get more reviews, please contact bizmktg.com (800) 808-0249 today.