More important – Higher rating on Yelp or more Facebook followers?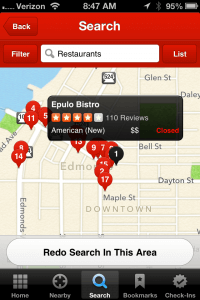 Is it more important for a local business (especially restaurants and cafes) to have a higher rating on Yelp or more social followers on Twitter or Facebook?  In a recent research paper, Two UC Berkeley economists say the better Yelp rating clearly lead to more business than other online factors such as Twitter and Facebook .  Alex Salkever from StreetFightMag summed up their findings like this:
The researchers wrote in their paper "…although social media sites and forums may not generate the financial returns for which investors yearn — they play an increasingly important role in how consumers judge the quality of goods and services." To arrive at their conclusions, the economists correlated daily Yelp ratings and reservation availability across 328 eateries in San Francisco. By measuring the number of available tables left on offer at the end of a day and then asking the restaurants about other factors which may have impacted the number of diners, the researchers concluded that the Yelp Factor provided the primary impetus to selling out the joint.

The paper actually underscores a point I made in my last column. Today, many small businesses are being told that unless they focus on social media marketing, then they will lose out. This is only half the story. If they have a choice between social media marketing and better customer service or a better product — both of which are dependent on resource allocation, which is always a problem in small businesses — the small businesses may in fact be better off focusing on the product rather than the marketing push. You can have the best Twitter patter and the finest Facebook page, but a half-star rating change on Yelp because you failed to flip that burger in time or didn't make eye contact with a customer might have a bigger impact.
The one caveat that I would add based on my own experience is that Yelp is more important for certain categories such as restaurants.  I have not done the research yet, but  anecdotal evidence from my own clients seems to show that some categories are not as important on Yelp, such as personal injury attorneys.